Google
Translation
Edit Translation
Pages
PS Vita CFW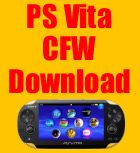 PS Vita VHBL

Categories

June 29, 2012 · Miko Ulloa · Jump to comments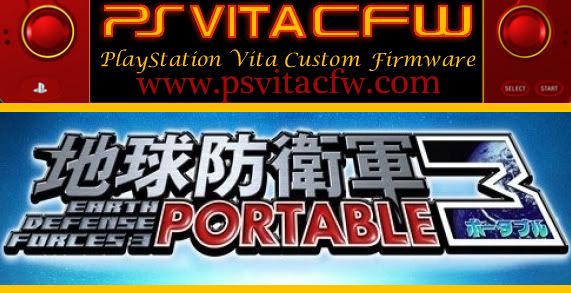 Description : Earth Defense Force Portable 3 is the next upcoming PS Vita game that is set to be release on September of 2012 according to online sources . This cool shooting game seem to have a pretty good game play as well as support for Ad-Hoc multiplayer features . There has not been much information on what features this PS Vita Game Earth Defense Force Portable 3 will utilize on the PS Vita , But as most game, This should have some type of support for the touchscreen features as read touchpad will definite be one features that it will utilize .
This PS Vita game Earth Defense Force Portable 3 will be one game you will want to have on your PS Vita if you are always on the go , With multiplayer support, Users will find it very interesting to play this game, Especially if you like killing some big ants which you will be a few of them running around trying to attack you .. Below you will find a few more information about this PS Vita game .
あの絶望感が、いよいよ帰還!
「地球防衛軍3」Playstation®Vitaに登場。

アドホック通信だけではない。
シリーズ初オンライン通信による最大4人での協力プレイが実現。

『EDF3P』だけの新ミッション、新兵器を多数収録した最新作。
集えEDF隊員、戦友と共に未知なる訪問者「フォーリナー」から地球を守れ!

【商品詳細】
PlayStation®Vita専用ソフト
『地球防衛軍3 PORTABLE』 2012年秋発売予定

希望小売価格
通常版:6,090円(税込)
ダブル入隊パック:7,329円(税込)

Translated to English

A sense of despair that, finally return!
Appeared in the Playstation ® Vita "3 Earth Defense Force."

Is not the only ad hoc communication.
Realized in co-op up to four people by the first series online communications.

The latest was recorded only a large number of new missions "EDF3P", a new weapon.
Defend the Earth from the "foreigner" unknown visitor members EDF, along with the comrades Assemble!

[Product Details]
PlayStation ® Vita-only software
Will be released fall of 2012 "3 PORTABLE Earth Defense Force"

Suggested retail price
Regular Edition: 6,090 yen (tax included)
Enlistment pack Double: 7,329 yen (tax included)
So if this is your type of game, Then you might want to go ahead and pre-order a copy of this PS Vita game known as Earth Defense Force Portable 3 which is set to be made available on September of this year . Feel free to visit your favorite gaming store or PSN for any pre-order of this PS Vita Game .

Feel free to watch a Game Trailer of this PS Vita Game Earth Defense Force Portable 3 which is set to be release in Mid September to the PlayStation Community .

Download 1
Available on PSN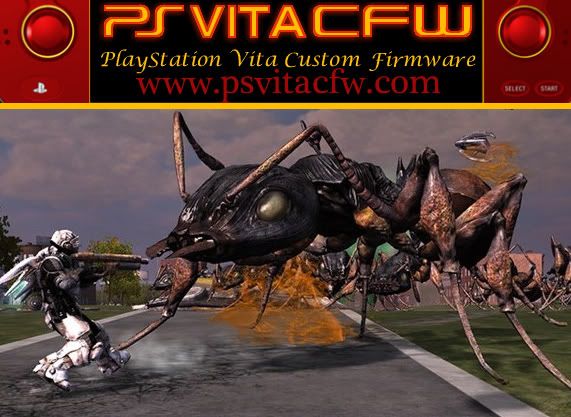 More info : Here is what one gaming website had to say about this PS Vita Game
Earth Defense Force seems that it would be a perfect fit for on-the-go gaming. What better way to kill a little bit of time by defending Earth from wave after wave of hideously overgrown insect scum? If one thing is certain from the trailer, it's that the same over-the-top action seems to be making a powerful return with Earth Defense Force: Portable 3.
I'm guessing that Earth Defense Forces 3: Portable (yes– "Forces" plural, according to the trailer) is some kind of port of Sandlot's Earth Defense Force 3, an Xbox 360-exclusive release that came to North America in 2007 as Earth Defense Force 2017. There's no word on when the game will be released, though the official website makes mention of 2012.
The EDF games are solid budget titles here in the U.S. so I think it's probably reasonable to speculate that we'll see this localized soon enough for North American gamers. That's certainly the hope, because having the ability to squish giant space bugs with rocket launchers on the go would make the Vita exponentially more awesome.

Online News on the Web about this PS Vita Game Earth Defense Force Portable 3
Thanks for reading this small post here on PS Vita CFW . Where you will find all the latest information about PS Vita Custom Firmware and PS Vita Homebrews .
Incoming search terms:
ps vita cfw sept 2012
ดาวโหลด psvita earth defense forces 3 portable
Earth Defense 3 Portable
earth defense forces 3 ps vita
силы обороны земли фильм
SHARE
Related posts about this topic

PS Vita Game
PS Vita VHBL