Google
Translation
Edit Translation
Pages
PS Vita CFW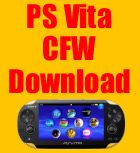 PS Vita VHBL

Categories

February 21, 2012 · Miko Ulloa · Jump to comments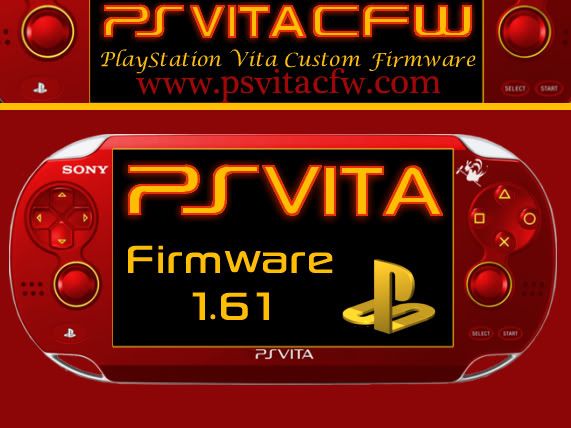 Description : PS Vita Firmware 1.61 is now available to the PS Vita Homebrew community . PS Vita Firmware 1.61 is the latest Official PS Vita Firmware to be released by Sony PlayStation for PS Vita owners .
If you are running an older version, Then is recommended to update to the latest PS Vita Firmware which was released on Feb 21st of 2012 . This latest update offer more features and better security protection than earlier version . This cool update will add features such as Google Map , Recording compatibility for your PS Vita Cam and a bit more . A complete listing of features available could be found below in the developer statement section .
According to the developer of VHBL also known as Vita Half-Byte Loader . This PSP Vita Firmware does not patch the exploit . Meaning homebrew users could still use the VHBL on their PS Vita with the latest PS Vita firmware 1.61 . This is good news for those users still wondering if they should update or not . Is safe to say you could still update your PS Vita Firmware without any issue of running PS Vita Homebrew loader on your PS Vita System .
Version : 1.61
Developer : Sony PlayStation


Download 1
Download 2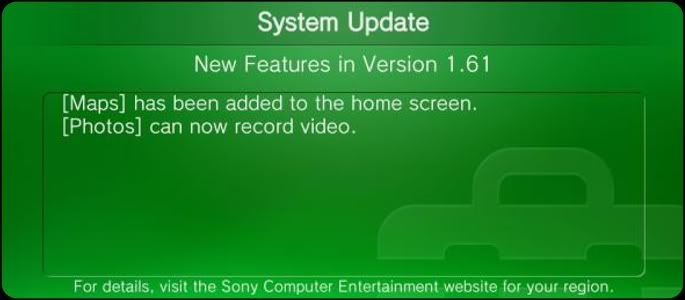 More info : This whats included on this release of PS Vita Firmware 1.61
A new application, (Maps), has been added to the home screen.

In addition to photos, you can now take videos using the Photo application.
You can now publish stories about the products that you rate in PlayStation Store to Facebook.

In near, players' information is now displayed on the Discoveries screen. On this screen, a list of the online IDs of up to 100 players that you have met, and the several times that you met each player, are displayed. Tap an online ID to display that player's profile screen.

The Mac OS version of Content Manager Assistant for PlayStation has been released. The Windows version has also been updated.
Please note that there is no PS Vita CFW 1.61 available at the moment . Any news about any PS Vita Custom Firmware will be posted .

Online News on the Web about this PS Vita Post PS Vita Firmware 1.61
Thanks for reading this small post here on psvitacfw.com . Where you will find all the latest information about PS Vita Custom Firmware and PS Vita homebrew .
Incoming search terms:
opencma r4 1 61
algo-timewarner_if
ps vita homebrew for mac
ps vita hack 1 61
ps vita firmware hacks 1 61
ps vita cfw 1 61 download
ps vita 1 61 cfw
playstation vita games다운로드
1 61 version ps vita
open cma r4 5 1 61
homebrew loader for vita firmware 1 61 mac download
homebrew custom firmware 3dfhdl
download PS Vita System 1 61 for Mac
download PS Vita firmware1 61
actualización oficial 1 61 ps vita
ps vita homebrew meaning
SHARE
Related posts about this topic

PS Vita Game
PS Vita VHBL