Google
Translation
Edit Translation
Pages
PS Vita CFW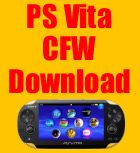 PS Vita VHBL

Categories

January 23, 2012 · Miko Ulloa · Jump to comments

Description : Pirate Game on PS Vita , well that is the news going online so far in some gaming news site . Yep you heard right , It seem PS3 owners who have CFW 3.55 installed on their PSP will be able to play their backup games on their PS Vita via the Remote Play Feature .
In a video uploaded by a Spanish Youtube member homer49, It seem the uploader was able to get Battlefied 3 to play on the PS Vita . Even though the game lags a bit , It's no surprise that users were able to get the PS Vita to run certain game through a hack PS3 CFW . I guess within a few days we should see a bit more video of PS Vita owners streaming their PS3 game through remote play features on PS3 that have CFW 3.55 installed . Pirate Game on PS Vita , well it seem that at the moment it seem possible with PlayStation 3 that have CFW 3.55 installed and are using the remote play features .
Below in our video section . You will see Spanish YouTube uploader homer49 play his PS3 Battlefied3 on his PS Vita through Remote Play features available on the PS3 with CFW 3.55

More info : So what does this means , Well so far not much to PS Vita owners unless you are a PS Vita owner who has a PS3 with CFW 3.55 installed . This is no way a new hack or exploit made available on the Ps Vita but more a hack on the PS3 CFW that enable PS Vita owners to stream certain backup games to the PS Vita via the remote desktop . There is no CFW for PS Vita available at the moment or any exploit or hack made available for the PS Vita . Even though there are a few Devs working on a homebrew loader for the PS Vita , There has not been anything officialy release to the PS Vita Homebrew community at the moment .

Online News on the Web about this PS Vita Post Pirate Game on PS Vita
Thanks for reading this small post here on psvitacfw.com . Where you will find all the latest information about PS Vita Custom Firmware and PS Vita Homebrews .
Incoming search terms:
ps vita pirate
ps vita cfw pirate games
how to pirate games on a ps vita
psp vita pirat
psvita cfw pirate games
psヴィータ 海賊
site for ps vita like pirate bay
urbanix ps vita backup game
vhbl pirate games ps vita
vhbl play pirated games
vita ps3 cfwリモート
как установить пиратки на ps vita
ps vita pirated game
ps vita pirate games
ps vita pirate bay
how to pirate ps vita gaes
how to play copy games in ps vita
mortal kombat 9 1 0 2 3 55
pirate vita games
pirated games for cfw 4 20
SHARE
Related posts about this topic

PS Vita Game
PS Vita VHBL