Google
Translation
Edit Translation
Pages
PS Vita CFW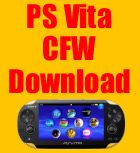 PS Vita VHBL

Categories

News tagged with "half-byte"
March 4, 2012 · 3 Comments
Description : How To Install VHBL - Vita Half-Byte Loader Tutorial for PS Vita owners who will like to run this Homebrew Loader on their PS Vita . With the ...
March 2, 2012 · 1 Comment
Description : VHBL aka Vita Half-Byte Loader is now available to the PS Vita Homebrew Community . This is good news for those of ya users who love playing and ...
PS Vita Game
PS Vita VHBL